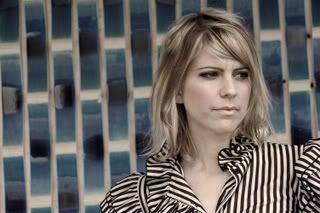 That's a pretty sweet shirt Sarah Hallman's got there.

Monday night, think about taking in local chanteuse Sarah Hallman's CD release show, happening at The Black Tomato in the Byward Market (11 George Street).
The self-titled album, released on Kitchener label Busted Flat Records, has Hallman playing with a number of local namesyoumayknow, including Jeremy Gara (Arcade Fire), Mike Feuerstack (Wooden Stars/Kepler/Snailhouse), and John Tielli (Clark).

If you haven't actually heard a song of hers, you may still already know Sarah Hallman as the sweet and kindofhaunting female voice in the Hilotrons track Oh My; if not, you can go have a looksee and listen over at YouTube to get an idea of what she's all about.
And, to get even more of an idea, you can grab a 30-second sample of every track on the record from Sarah Hallman's website, which dial613 thinks should be enough to convince you to go see the show.

There's also been a bit of Blogslob™: Largehearted Boy featured one of her songs back in September, so you can take that for what it's worth, which is probably at least a little in terms of having a beyond-local listener base. High-five!

This Monday:

M - 12.04.06
Sarah Hallman* (CD release) with Lessons* (aka Jeremy Gara), at The Black Tomato
-->Sarah Hallman - Grey Jubilee (from The Hollowings) (website, myspace)
The City Above* with Pointing At Airplanes*, Elephantoms*, and Smoke Judo*, at Zaphod's

* denotes local act

note: 'this week' will be up by Thursday morning.