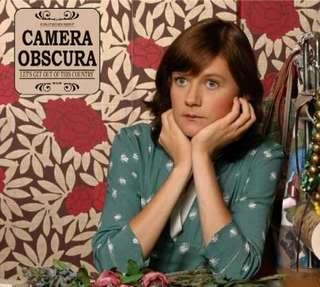 Would you like 2 free tickets to see Camera Obscura in Ottawa?

The Scottish sextet plays Barrymore's on January 30, along with tourmates The Essex Green and local Glenn Nuotio, as part of the 2nd leg of a North American tour in support of their 3rd album, Let's Get Out Of This Country.

And what do you know, dial613 has a pair of tickets to give away (~$35-40 value), courtesy of the fine folk over at Mocking Music.

To enter: Simply e-mail dial613 (dial613[AT]gmail[DOT]com) with the subpar subject line, "May I take a photo of you with my Camera Obscura? ;)" (awkward emoticon included). And...

For one bonus entry: With your e-mail, include a picture of what the nice lady in the photo above might possibly be looking at. Here's one idea.
For TWO bonus entries: Send in a picture of your best re-creation of the photo above, with you as the star. Come on, everybody's doing it. (oh, and dial613 would really like it if you gave permission for it to be posted on the site, too)

The contest closes at 11:59 PM on January 26, 2007, and the winner will be contacted through e-mail on January 27, 2007. Should the winner not respond in a reasonable amount of time, the tickets will be drawn for again.
Good luck!

To get you giddy:
-->Camera Obscura - Lloyd (Cole), I'm Ready To Be Heartbroken (website, myspace)
-->Camera Obscura - Roman Holiday

note: tickets = guestlist spots; no physical tickets involved!