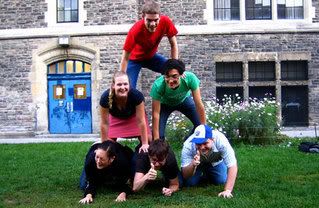 Ninja High School will teach you a lesson... in fun!!lol

If you're still deciding on your plans Saturday night, maybe you want to consider Ninja High School, who play at Café Dekcuf along with Vitaminsforyou and locals Turning Into Salt.
The Toronto hip-hop group have seemingly nothing serious to say, which is absolutely not a problem at all. They turn it into an asset, but more importantly, an excuse to use an animated skeleton gif.
-->Ninja High School - It's Alright To Fight
-->more available on website, myspace, new music canada

Hip-hop not your style? Get something similar, but way at the other end of the genre spectrum with Hamilton's B.A. Johnston at Avant-Garde Bar. In his own words, he plays "short catchy songs that will make you want to lie in bed reading comics." Probably dirty ones. Maybe check out his website and myspace and new music canada site.
-->B.A. Johnston - Squirrels
-->B.A. Johnston - Pita Pit Girls

Music not your style? Then I'm not too sure why you're here. But anyway, there's always the Ottawa International Animation Festival too, which is North America's largest animation event. How cool is that? And Saturday night at 7 PM, Barrymore's will be screening Cultoons! Strange, Rare and Lost Cartoons!, which sounds neato. And you, my friend, are one lucky guy/gal, because since it's an early start, you'll have plenty of time to get over to either of the above shows afterward. The festival continues til Sunday, check their website for details.

Decisions not your style? You're in tough, because Billy Bragg, The Wailin' Jennys, Kinnie Star, and locals Casey Comeau, The Solid Senders, and The Reverb Syndicate are also on Saturday night bills. So have fun.