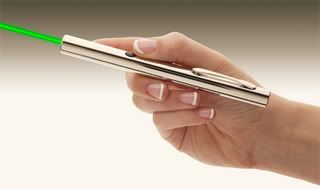 The laser pointer: good clean fun, but only for 119 days.

Very quickly:

120 Days are from Norway. Their name references the amount of time it takes for a laser pointer to cause complete blindness in an eye when being directed straight at the pupil.**
Greg Keelor is the guy who sings but is not Jim Cuddy in Blue Rodeo.

André Ethier fronted the dearly departed The Deadly Snakes, and has performed and recorded with Peterborough collective The Silver Hearts.

The rest of the week will be up Wednesday, but only if you keep your fingers crossed.
Which shows will you be laser pointing at this Monday thru Wednesday?
Mon - 10.30.06
120 Days
with Embassies Of Denmark*, The Undead, Out Reason, at
Zaphod's
-->mp3's available over at
i (heart) music
Regulations
with The Sweet Janes*, at
End Hits
Wed - 11.01.06
Greg Keelor
(CD release) with The Sadies and André Ethier, at
Barrymore's
* denotes local act
** lie
PS
Ottawa XPress
has put out its annual
"Best Of Ottawa"
survey, have a look.