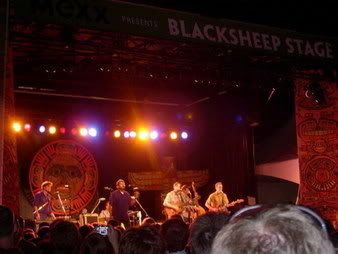 Calexico on the Black Sheep stage, opening night of Bluesfest 2006

So, how about those first couple days of Bluesfest?

Notable moments so far:

Broken Social Scene attempting to issue the most pleasant pink slip ever, by proposing in song the firing of whoever scheduled Calexico's set the same time as theirs, because "we fucking love those boys", (wow, shaky VIDEO!!)
some drunk dude getting the crowd to chant "well-behaved" at Jason Collett's show after he took them to task for not going crazy, and

The Acorn, in an apparent attempt to be unoffensive, yelling "Pol Pot" into the mic repeatedly.
But musically?
Elvis Perkins
was better than I could have hoped (especially with a jangly cover of
Del Shannon
's "Runaway"),
Feist
had a beautiful, wall-of-sound-like take on BSS's "Lover's Spit," and
Seu Jorge
had a tambourine section that you can only hope does not believe in spanking their kids. Because they could do it really fast and hard if they wanted. (i've got nothing..)
Tonight it's
Ani DiFranco
and then
Solomon Burke
, with
Michael Franti
and
Amadou & Mariam
as alternatives. Afterwards, you can catch local
Andrew Vincent
at
The Manx Pub
.
Part 2 of dial613's
Bluesfest
guide, which will be shorter both for your own good and mine, will be out Monday.