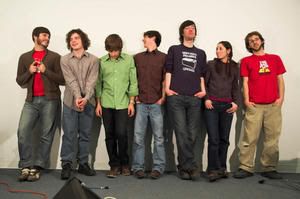 Jetplanes Of Abraham in police line-up formation

First, a gold star and pat on the back goes to locals (dare I say supergroup?) Jetplanes Of Abraham for their set last night opening for The Most Serene Republic. They were great.. but like everything else you may read here, don't take my word for it, go check it out for yourself. I think your next chance will be August 2, when they open for The French Kicks. Meanwhile, you can listen to one track off their myspace.

Alright, so there are a couple things going on that you might want to look into this weekend for when you're not at one of the twelve (!) dial613-approved shows happening between tonight and Sunday (which, of course, are all handily listed in the sidebar to your right):

Art in the Park 2006
The 14th annual Glebe community art festival is on this Saturday and Sunday from 10AM-5PM. It's right in the Glebe's Central Park, which I'm told is located at Bank and Clemow (I don't know, google it). It's free admission, and you're supporting the local artists who paint, sculpt, etc. as their livelihood. The festival also includes music, dancing, and buskers.

Doors Open Ottawa
from the website: "is a weekend celebration of our architectural heritage when historic and architecturally significant buildings open their doors to the public."
Apparently they've been doing this since 1998.. it's the first I've heard of it, but it sounds kinda neat. You can go into the Bytown Museum built in 1827, the old Ottawa Jail on Nicholas (which I think is now a hostel), and some other places you normally can't get into, like the headquarters of Canada Post and OC Transpo. For a list of all the buildings you can see, go here.

Lastly, just a quick thanks to everybody who has come to check out the blog and/or commented on the Myspace. Yesterday alone, dial613 saw more traffic than the previous 4 days combined. So it looks like everything is on the right track here. Keep telling your friends. Especially about the show listings on the right. Those are awesome.

Let's get the Ottawa music scene the attention it deserves.